CORN: COrneal Nerve Database
These datasets are released for academic research use only.
CORN-1: nerve segmentation dataset
Dataset Description
CORN-1 includes two sub-dataset: CCM-1 and CCM-2, for nerve segmentation tasks.
The CCM-1 dataset has a total of 1578 corneal confocal microscopy (CCM). All the images and labels of CCM-1 are obtained and segmented manually by our ophthalmologist, who traced the centerlines of all visible nerves.
The CCM-2 dataset includes 120 CCM. The original CCM can be download from University of Padova. However, the ground truths are not available in the original CCM. Fortunately, our ophthalmologist has completed the manual annotation of the original CCM, and we are willing to open source the ground truths.
All the images of CCM-1 and CCM-2 were acquired at size 384 × 384.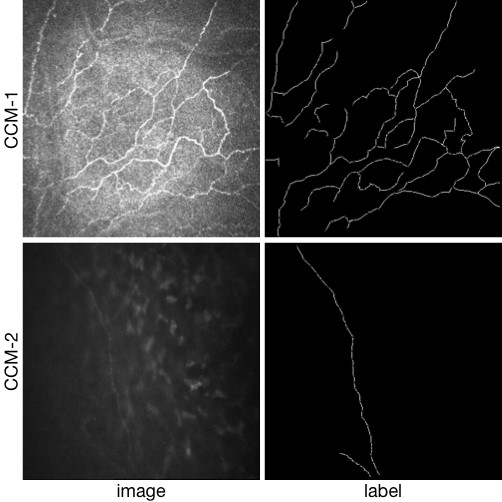 CORN-2: confocal image enhancement dataset
Dataset Description
CORN-2 was divided into low- and high-quality image domains for confocal image enhancement tasks.
A clinical expert was invited and selected 340 low and 288 high quality images in this dataset, respectively, for training and 60 low-quality images for test. For evaluation by nerve fiber segmentation, we also provided manual annotation of nerve fibers at centerline pixel level in the 60 testing images.
All the images of CORN-2 were acquired at size 384 × 384.
Note:
Sourse code of StillGAN: https://github.com/iMED-Lab/StillGAN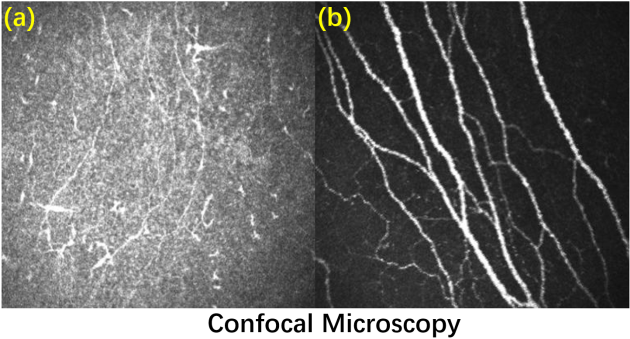 (a)Low-quality image; (b) High-quality image
CORN-3: nerve tortuosity estimation dataset
Dataset Description
For automated tortuosity analysis of nerve fibers in corneal confocal microscopy, we constructed CORN-3 based on CCM-1.
CORN-3 was categorized into four groups based on fiber tortuosity level. An image analysis expert and the clinical author (obs 1 and obs 2) each independently labeled the tortuosity level according to a previously published protocol [48], and the consensus between them was then used as ground truth (GT), i.e., Level 1: the fibers appear almost straight (54 images); Level 2: the fibers appear moderately tortuous (212 images); Level 3: the fibers are quite tortuous; the amplitude of the changes in the fiber direction is quite severe (108 images); Level 4: the fibers appear very tortuous, presenting frequent changes in the fiber direction (29 images).
All the images of CORN-3 were acquired at size 384 × 384.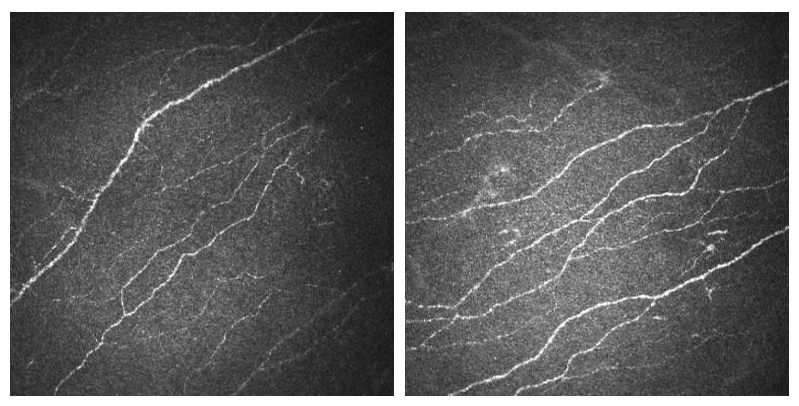 Level 1 Level 2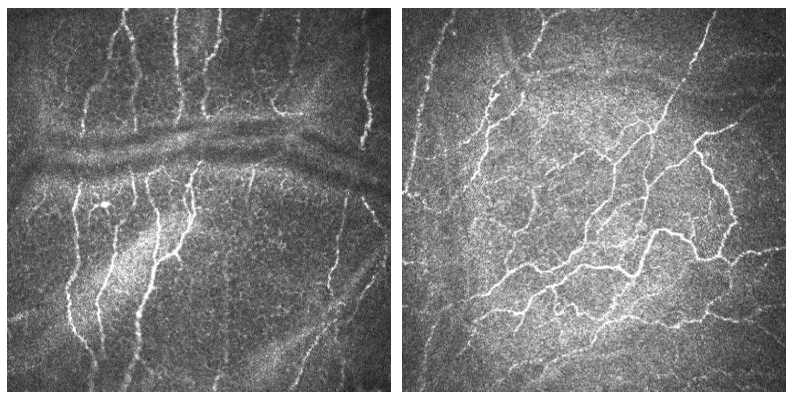 Level 3 Level 4
Citation
Yitian Zhao, Jiong Zhang, Ella Pereira, Yalin Zheng, Pan Su, Jianyang Xie, Yifan Zhao, Yonggang Shi, Hong Qi, Jiang Liu, Yonghuai Liu, Automated Tortuosity Analysis of Nerve Fibers in Corneal Confocal Microscopy, IEEE Transactions on Medical Imaging, 2020

Lei Mou, Yitian Zhao, Li Chen, Jun Cheng, Zaiwang Gu, Huaying Hao, Hong Qi, Yalin Zheng, Alejandro Frangi, Jiang Liu, CS-Net: Channel and Spatial Attention Network for Curvilinear Structure Segmentation, Medical Image Computing and Computer-Assisted Intervention, 2019.
Yuhui Ma, Yonghuai Liu, Jun Cheng, Yalin Zheng, Morteza Ghahremani, Honghan Chen, Jiang Liu, and Yitian Zhao, Cycle Structure and Illumination Constrained GAN for Medical Image Enhancement, Medical Image Computing and Computer-Assisted Intervention, 2020.
Download
To download this data set, an application email must be sent to yitian.zhao@nimte.ac.cn with a specified form like below, otherwise may be ignored.
Title of Mail:
The string of 'CORN' can not be empty. It is the fixed form and a special sign we use to identifying your downloading intention from other disturbers like spams.
The contents appending to CORN can help us identifying you more easily.
CORN: your_organization:your_name: usages_brief
Body of Mail:
OrganizationDetail: Your Organization Details
Main Works: Your Main Works
Usages: Your Usages About This Data Set
---
Should you have any questions, please feel free to contact yitian.zhao@nimte.ac.cn