OCHID: OCT Choroid Segmentation Dataset
This dataset is released for academic research use only.
Dataset Description
OCT Choroid Segmentation Dataset (OCHID) is now open source. OCHID was acquired by Heidelberg Spectralis OCT system. This dataset contains 10 OCT volumes which were collected from 10 healthy eyes, and each volume has 384 B-scans. The image resolution of each B-scan is 380×437. Similarly, the clinician annotate both the upper and lower boundaries of choroidal layer on one out of every six consecutive B-scans, and produces 384/6×10=640 B-scans with choroidal layer manual annotation.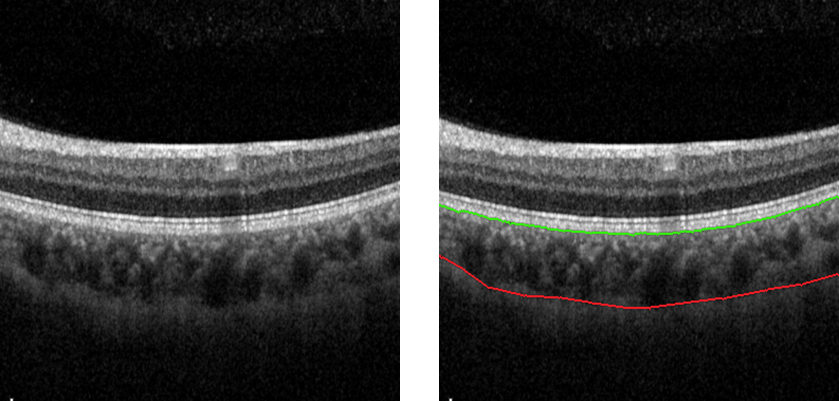 Examples of manual annotations from OCCS dataset
Dataset download
To download this dataset, an application email must be sent to yitian.zhao@nimte.ac.cn with a specified form like below, otherwise may be ignored.
Title of Mail:
The string of 'OCHID' can not be empty. It is the fixed form and a special sign we use to identifying your downloading intention from other disturbers like spams.
The contents appending to OCHIDcan help us identifying you more easily.
·OCHID: your_organization: your_name: usages_brief
Body of Mail:
·Organization Detail: Your Organization Details
·Main Works: Your Main Works
·Usages: YourUsages About This Data Set