MMM-21 (Manual annotation on MIDAS-MRA 21 images)
This data set is released for academic research use only.
Dataset Description
The MMM-21 (Manual annotation on MIDAS_MRA 21 images) is a dataset with manual annotation only. In each case, ~1600 landmarks were labeled, of which ~1000 and ~600 were annotations on vascular and non-vascular regions, respectively.
Link to MIDAS_MRA Images:
http://www.insight-journal.org/midas/community/view/21
ALL the labels of each case are saved as two individual .mps files, which can be read by MITK or MATLAB, these two files are:
Points on vessels: N001P, N002P…

Non-vessel points: N001N, N002N…
The following figures demonstrate the manual annotation applied on axial, sagittal, coronal and 3D view. Yellow indicates the non-vessel points, and green shows the vessel points.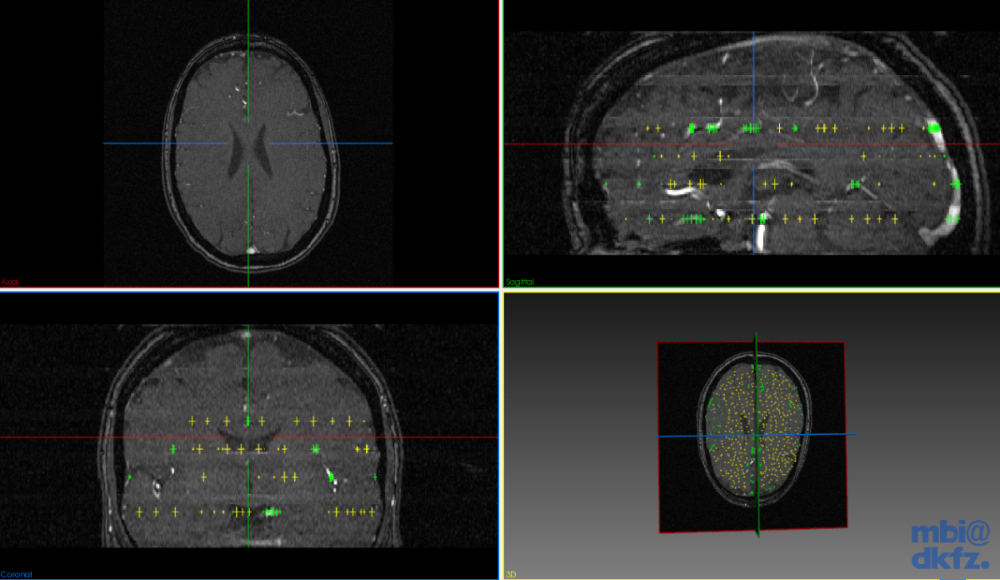 References
Please refer to our papers below for more details of our dataset.
Yitian Zhao, Yalin Zheng, Yonghuai Liu, Yifan Zhao, Lingling Luo, Siyuan Yang, Tong Na, Yongtian Wang, Jiang Liu, Automatic 2D/3D Vessel Enhancement in Multiple Modality Images Using a Weighted Symmetry Filter, IEEE Transactions on Medical Imaging, 37(2): 438-450, 2018.
Download
To download this data set, an application email must be sent to yitian.zhao@nimte.ac.cn with a specified form like below, otherwise may be ignored.
Title of Mail:
The string of MMM-21 can not be empty. It is the fixed form and a special sign we use to identifying your downloading intention from other disturbers like spams.
The contents appending to MMM-21 can help us identifying you more easily.
MMM-21: your_organization: your_name:usages_brief
Body of Mail:
Organization Detail: Your Organization Details
Main Works: Your Main Works
Usages: Your Usages About This Data Set
Should you have any questions, please feel free to contact us
Address: Zhenhai District, Ningbo City, Zhejiang Province zhongguan West Road 1219, the new scientific research building M817
Zip code:315201
E-mail: yitian.zhao@nimte.ac.cn