CORN: COrneal Nerve Database
These datasets are released for academic research use only.
Dataset Description
The corneal nerve database (named as CORN) is now open source. It includes two sub-dataset: CCM-1 and CCM-2.
The CCM-1 dataset has a total of 1578 corneal confocal microscopy (CCM). All the images and labels of CCM-1 are obtained and segmented manually by our ophthalmologist, who traced the centerlines of all visible nerves.
The CCM-2 dataset includes 120 CCM. The original CCM can be download from University of Padova. However, the ground truths are not available in the original CCM. Fortunately, our ophthalmologist has completed the manual annotation of the original CCM, and we are willing to open source the ground truths.
All the images of CCM-1 and CCM-2 were acquired at size 384 × 384.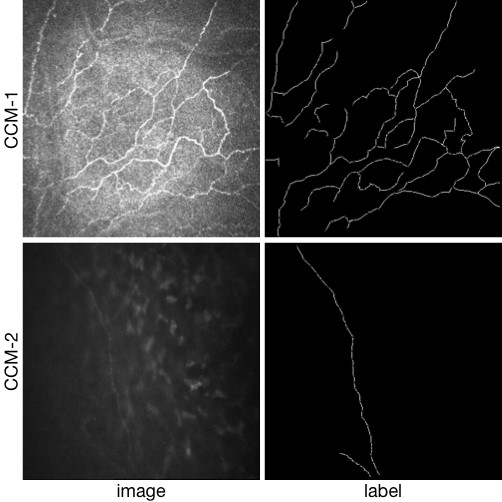 Download
To download this data set, an application email must be sent to yitian.zhao@nimte.ac.cn with a specified form like below, otherwise may be ignored.
Title of Mail:
The string of 'CORN' can not be empty. It is the fixed form and a special sign we use to identifying your downloading intention from other disturbers like spams.
The contents appending to CORN can help us identifying you more easily.
CORN: your_organization:your_name:usages_brief
Body of Mail:
OrganizationDetail: Your Organization Details
Main Works: YourMain Works
Usages: YourUsages About This Data Set
---
Should you have any questions, please feel free to contact yitian.zhao@nimte.ac.cn